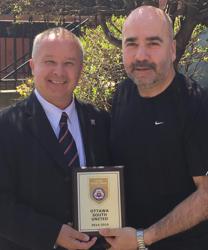 OSU Soccer is very proud since 2012 to have been recognized with the Gold Standard for Club Excellence within Ontario Soccer. In particular, OSU was the first club within Eastern Ontario to achieve this designation.
This award is presented to clubs which achieve high standards across technical, governance, management and community engagement for their servicing area. Through an active renewal process, clubs are challenged to update, expand and introduce operational practices and important policies on a continual basis.
"Everyone associated with OSU should be very proud of this outstanding achievment," noted Bill Michalopulos, Club President. "The Gold Award is not just about the quality soccer program we offer, but just as important it also recognizes the strong foundation of quality governance, community involvement and forward thinking upon which the club is built."